Guided Exhibition Visit – Ari De La Mora's Syncretism
July 17, 2021 @ 4:00 pm

-

5:00 pm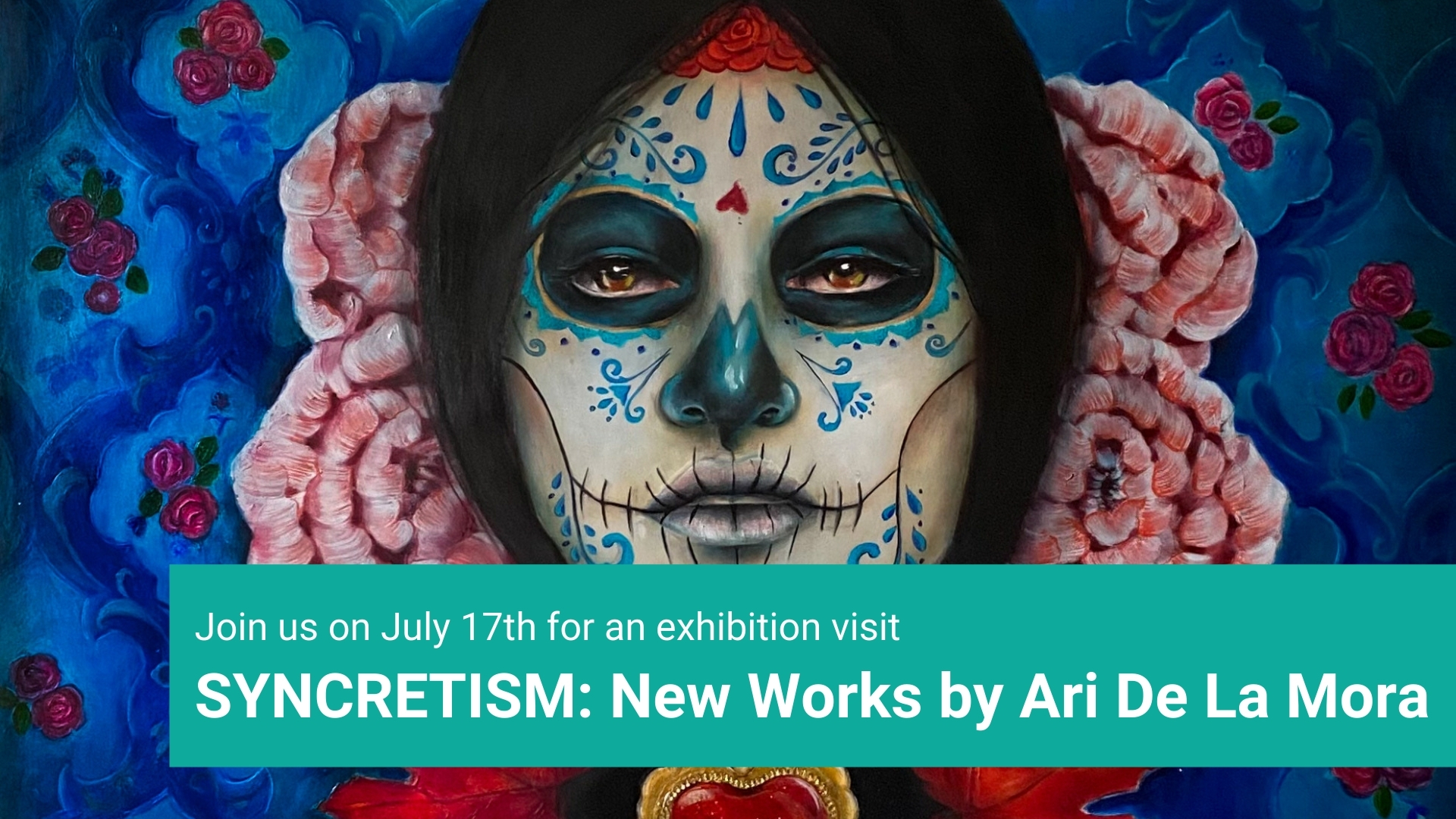 Exhibition visit  – Syncretism: New Works by Ari De La Mora
Join us for this special visit to Ari de La Mora's new show. the artist and curator will be in attendance to give us an insight into this new body of work.
Please RSVP and join us for a fun and enlightening Saturday afternoon.
SYNCRETISM – new works by Vancouver-based artist Ari De La Mora, taking place in the B1 Gallery at the Beaumont Studios located on the unceded ancestral lands of the Squamish, Musqueam, and Tsleil-Waututh First Nations, curated by Kirsten Larsen.
In this exhibition, Ari is asking us "What does it mean to be a Canadian?"
syncretism
noun /ˈsɪŋ.krə.tɪ.zəm/ – the combining of different religions, cultures, or schools of thought
"I believe one of the pivotal elements resides in the multiculturalism that characterizes the country and the enrichment that us, the people, can bring to the cultural diaspora. My experience as a visual artist and as a Mexican immigrant woman building a life in Canada is the inspiration for my work, which addresses topics of representation, cultural reclaiming, immigrant women's visibility and our relationship with the land.
I am a figurative painter who is strongly influenced by cultural themes, this is the reason why an important aspect of my work relies on the depiction of traditional uses and customs, such as cultural face painting and symbolism. Through the use of a rich colour palette, the female figure, and the "magic realism style" I portray the scope of beauty and diversity that can be found in a minority, challenging the preconceived perception of what a particular group is all about or may look like. My work is aimed to provoke reactions that generate necessary conversations about culture and identity. Paintings can communicate messages and be a vehicle to empower ourselves and, in doing so, they can also contribute to the Canadian cultural landscape."
– Ari De La Mora
EXHIBITION SPACE:
B1 Gallery at the Beaumont Studios
2109 Alberta St. *Side entrance
Guided visit with the artist and the curator
Saturday, July 17th at 4 pm
Please confirm your participation by email to
gallery@theBeaumontStudios.com
ABOUT THE ARTIST:
Ari De La Mora is a self-taught figurative painter born and raised in Mexico. Ari holds a degree in Advertising with a specialization in Creative Visualization from the University of Communications in Mexico City.
With a strong influence of the female portrait, she reflects classical and modern interpretations juxtaposed with cultural anthropology themes. Ari's artwork had been exhibited in a group and individual exhibitions in Vancouver, United States and Mexico.
Passionate about culture, social anthropology and spaces that promote connections between cultures and communities, Ari has collaborated with the Museum of Anthropology, the City of Vancouver, the Granville Island Cultural Society, the Vancouver Mural Festival, UBC department of Latin American Studies and the Consulate General of Mexico with cultural projects, art workshops, seminars and talks.
In collaboration with the publisher The Publishing Eye, in 2018 "The International Day of the Dead book " was released, a compilation of three years of a public art project related to the perception of death from a variety of cultures, created and curated by Ari and hosted on Granville Island from 2015 to 2017.
ABOUT THE CURATOR:
Kirsten Larsen is a BC-born artist and creative consultant, currently residing in Vancouver, British Columbia. She is deeply committed to collaborative projects that benefit the Arts and Culture community.
Her passion for art has always been at the forefront of her career portfolio. Collaborator, advocate, business mentor and volunteer; she is the founder and artistic director of Vancouver Art Attack, a creative consulting agency founded in 2013, now specializes in curated art experiences, acquisitions, artist representation and the Vancouver Art Attack Award of Excellence in Visual Arts at Emily Carr University of Art & Design.
Currently, she is the curator for the B1 Gallery at the Beaumont Studios, a member of the board of directors at the Vancouver Biennale, Vancouver's only Outdoor Public Art Museum featuring world-class art from around the world as well, she sits on the board for the Community Arts Council of Vancouver.
In partnership with The Beaumont Studios