Chile, Obstinate Memory screening and Q&A
October 11 @ 6:30 pm

-

8:30 pm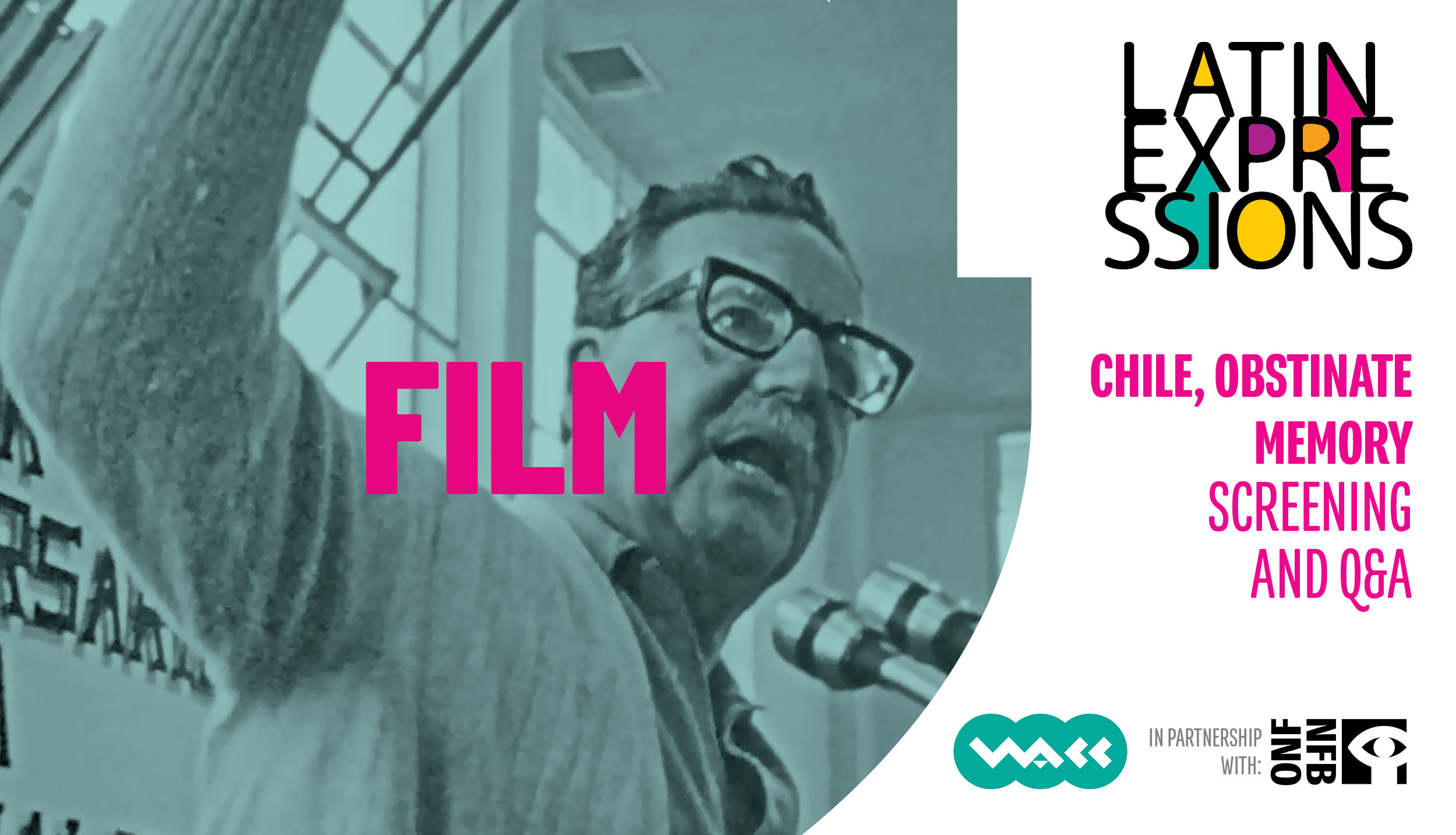 To mark the sombre 50th anniversary of Salvador Allende's overthrow, join us at a screening of Chile, Obstinate Memory by Patricio Guzmán, truly a living legend of documentary cinema. One of the best docs ever produced by the NFB, Chile, Obstinate Memory revisits the country's coup d'état through Guzmán's eyes, as the director returns to his motherland for the first time after 23 years of exile.
This screening will have open remarks and a Q&A session moderated by Camilo Martín-Flórez, Collection Curator at the National Film Board of Canada.
Date: Wednesday, October 11 –
Time: 6:30pm to 8:30pm
Location: SFU Vancouver Campus – 1415 Cominco Policy Room
515 West Hastings Street, Vancouver
Register: https://www.eventbrite.ca/e/chile-obstinate-memory-screening-and-qa-tickets-727083685877?aff=oddtdtcreator
Short Bio 
Camilo Martín-Flórez has devoted his entire career to studying and promoting other cinemas from the Americas (Canadian, Women, Indigenous, Afro-Descendant, Asian American, etc.), as well as–and especially–from Latin America and the Caribbean. He holds a Ph.D. in Film Studies from the University of Bologna (Italy). As the National Film Board of Canada's Collection Curator, he is responsible for film programming on nfb.ca and for writing about films, filmmakers, and the history of the NFB.
Chile, Obstinate Memory
Patricio Guzmán
1997 | 58 min
In Spanish with English subtitles
In this feature documentary, a Chilean filmmaker returns to the motherland for the first time in 23 years. Time is passing. A generation of young Chileans has grown up with no knowledge of  the facts surrounding the military coup of September 11, 1973. In his suitcase, The Battle of Chile his 3-part cinéma vérité chronicle of the political tensions in Chile in 1973 and of the violent counterrevolution against the democratically elected government of Salvador Allende. His documentary toured the world but was never seen in Chile. Discreetly, he shows it to his friends and a small group of students. After the screening, the young people are in a state of shock. They have an urgent need to know the truth, for it is they who must build the Chile of tomorrow. 
Register
In partnership with the National Film Board