VLACC en la Feria Iberoamericana del Libro en Canadá
October 27, 2020 @ 12:00 am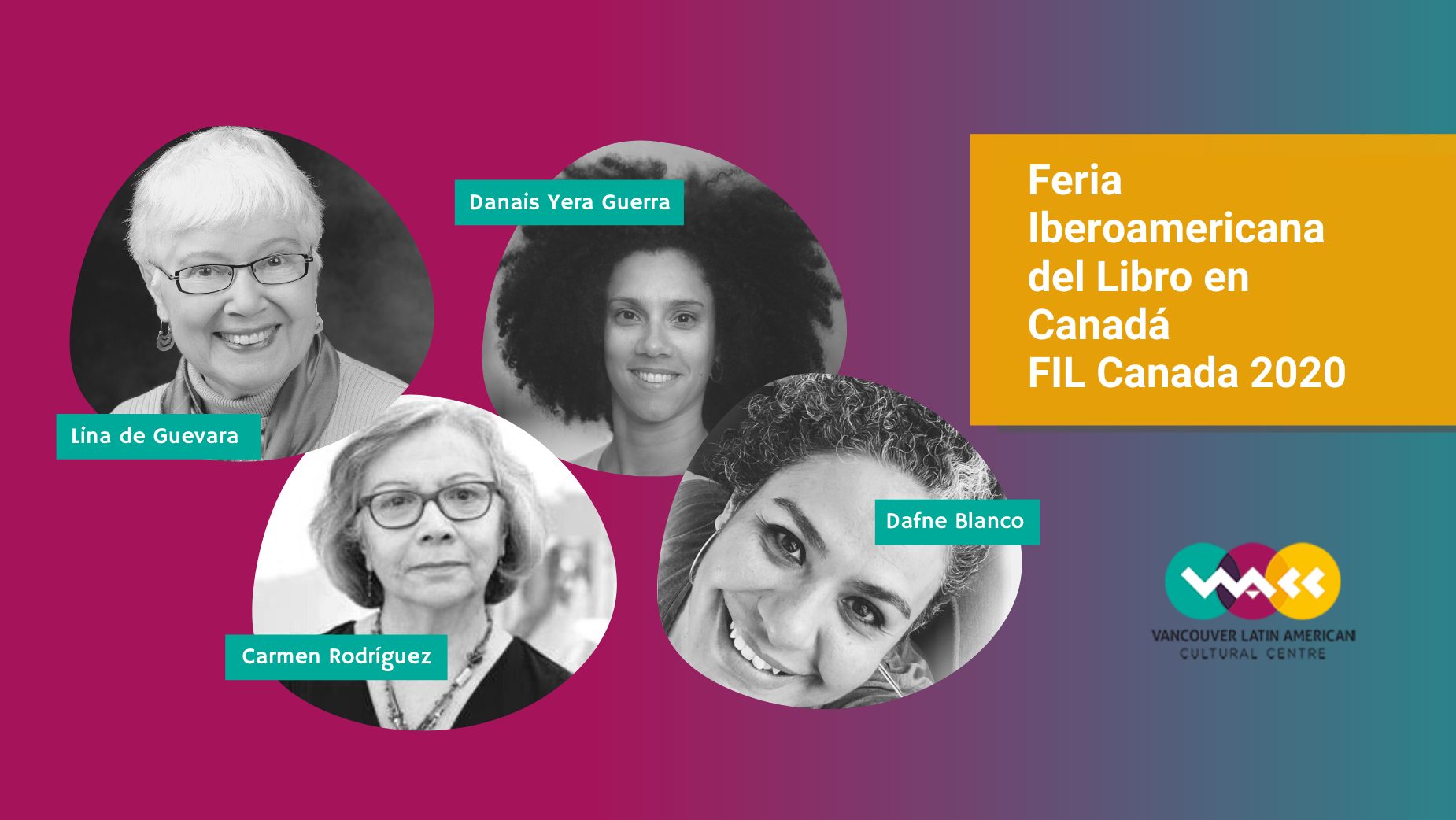 Link for Registration will be available soon at: https://www.filibrocanada.com/escritoras-vancouver.html
VLACC en la Feria Iberoamericana del Libro en Canadá
Día: Martes, 27 de octubre, 2020
Hora: 5:30pm PST | 8:30 pm EST
De sur a norte: la presencia de Latinoamérica en el trabajo de cuatro escritoras latino-canadienses
Soledad, una de las protagonistas de la novela de Carmen Rodríguez El desquite, afirma: "…cuando uno se va de su país, en verdad uno no se va de su país. El país te persigue, te asedia, te hace zancadillas; se aparece en cada esquina, en cada calle; en el viento, en las nubes. No te deja tranquila." En este coloquio, las participantes conversarán sobre la presencia de sus respectivos países de origen en su trabajo y cómo su posicionamiento físico y cultural en Canadá afecta la manera en que ven y representan aquellos países en su escritura.
From South to North: The Presence of Latin America in the Work of Four Latino-Canadian Writers
Soledad, one of the protagonists of Carmen Rodríguez's novel Retribution, states: "… when you leave your country, you don't really leave your country. Your country chases after you, lays siege to you, makes you stumble; it shows up at every corner, in every street; in the wind, in the clouds. It doesn't leave you alone." In this panel discussion, the participants will talk about the presence of their respective native countries in their work. As well, they will discuss how their physical and cultural positioning in Canada affects the way in which they see and represent such countries in their writing.
Biografías de las escritorias:
La educadora, periodista y escritora bilingüe chilena-canadiense Carmen Rodríguez ha residido en Vancouver desde 1974. Es la autora de Guerra prolongada /Protracted War, un volumen de poesía; la colección de cuentos De cuerpo entero/and a body to remember with (Mención del Premio municipal de literatura, Santiago/finalista de los Vancouver Book Awards); y Retribution/El desquite/ Chiles Døtre, una novela (segundo lugar, International Latino Book Awards). Atacama, una segunda novela, será publicada en 2021.
Nacida en Chile, Lina de Guevara es directora de teatro, dramaturga y actriz. Se graduó en la Escuela de Teatro de la Universidad de Chile, Santiago. Fue profesora de actuación y movimiento en la Escuela de Teatro de la Universidad Austral en Valdivia. Inmigró a Canadá en 1976. En 1988 fundó el teatro PUENTE en Victoria BC, con el objetivo de crear y producir obras sobre Latinoamérica y las experiencias de los inmigrantes. Fue su Directora Artística durante 23 años. Se retiró en Junio, 2011. Continúa actuando, dirigiendo y escribiendo.
Originaria de México y residente en Vancouver desde 1996, Dafne Blanco es escritora y artista visual. Tanto su trabajo literario como artístico evidencia su ancestro multiétnico – aborígen, africano y judío – y sus experiencias como inmigrante en Canadá. Su memoria Estado de ausencia fue publicada por Caligrama en España en 2019.
Procedente de Cuba, Danais Yera Guerra es graduada de Comunicación Social por la Universidad de La Habana. Es profesora de danza, directora artística y apasionada a la escritura. Su cuento "El equivocado" fue publicado en la antología del concurso de minicuentos "El Dinosaurio" organizado por el Centro Onelio Jorge Cardoso. Desde el año 2012 reside en Vancouver donde estudió Arts and Entertainment Management en Capilano University. Participa activamente de encuentros y talleres literarios.