Open Doors to Art: Exhibition Visit with Yaimel López at the BAG
February 24 @ 5:00 pm

-

6:00 pm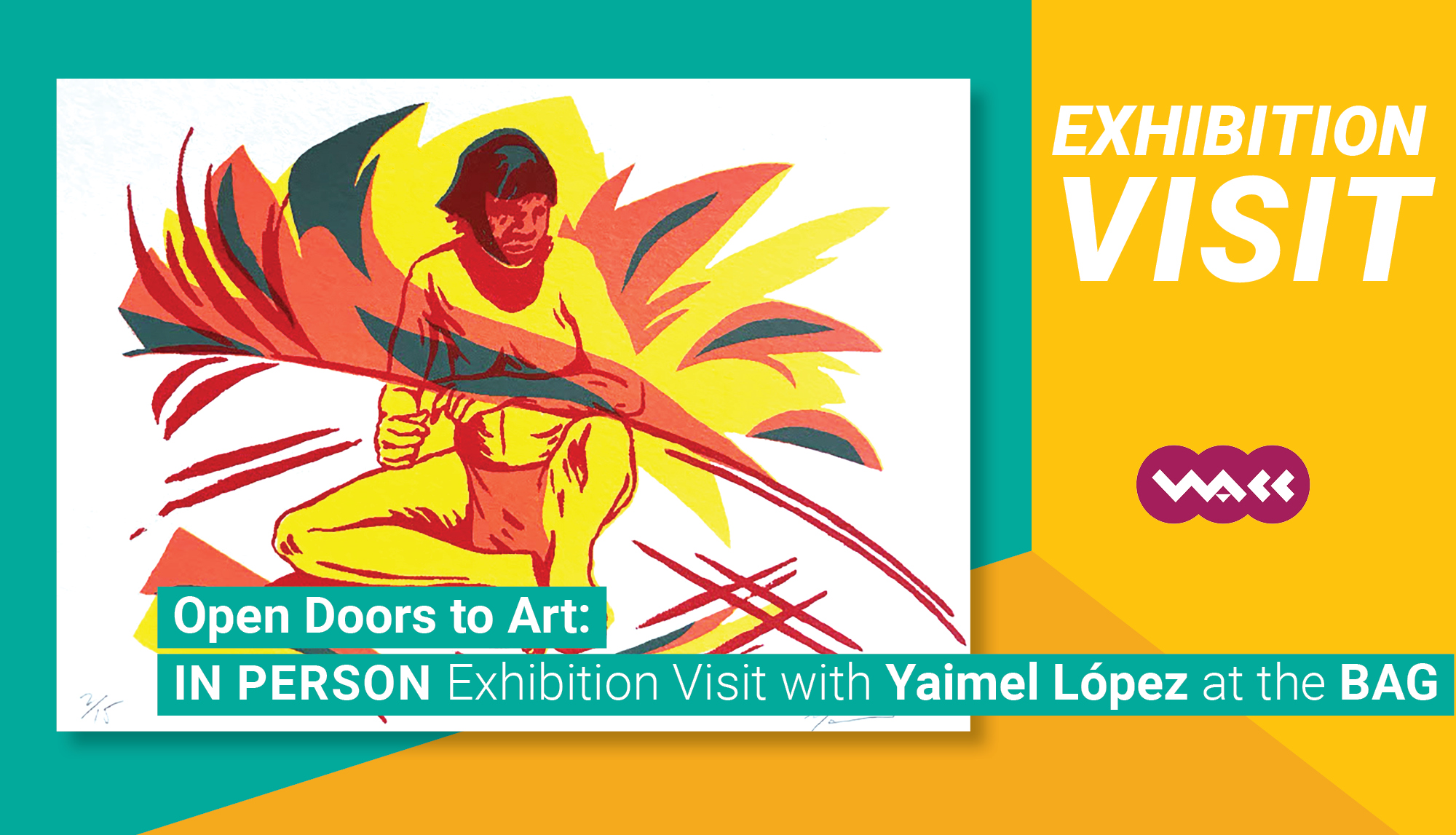 Join us on Friday, February 24th at 5:00 pm at the Britannia Art Gallery for an Exhibition Visit with Cuban artist Yaimel López.
Miret Rodríguez, the co-founder and creative director behind Curated Tastes will help us to unveil Yaimel's exhibition Café_Volumen 1. Get ready to learn more about his journey and the theme that inspired this body of work.
The conversation will be followed by an opportunity for questions from the audience.
Free event, but registration is necessary.. Register here
Date: Friday, February 24
Time: 5:00 – 6:00 pm
Place: Britannia Art Gallery (the gallery is located inside the library) 1661 Napier St Van BC V5L 4X4
About the series:
In partnership with Curated Tastes, VLACC has made a selection of Latin American artists and spaces that represent them in Canada. These artists and spaces are opening their doors to us. We'd like to take you in and share the intimate experience that it is to visit an artist studio, the private spaces of a gallery or to have a guided visit to a current exhibition
Let's Commemorate Black History Month at the Britannia Community Centre
In partnership with the Britannia Anti-Racism and Anti-Oppression Committee, we're delighted to Commemorate Black History Month on Friday, February 24th, from 5:15 – 8:00 pm with a cultural tour highlighting artists from our community and their connection with the Britannia Community Centre.
Pop up at any time of the tour or join us at 5:00 pm for the Exhibition Visit at Yaimel López's exhibition Café_Volumen 1.
The schedule will include the following stops:
4:30 pm – Meet at the Info Centre & Walk to the mural Celebrating Black Lives by Ejiwa "Edge" Ebenebe
5:00 pm –  Yaimel López's exhibition Café_Volumen 1 at the Britannia Art Gallery with curator Miret Rodríguez. Followed by meet the artist and refreshments at the Info Centre.
6:15 pm –  Presentation of the Short Film "Black Strathcona a history of Hogan's Alley at the Info Centre.
Place: Multiple locations around the Britannia Community Centre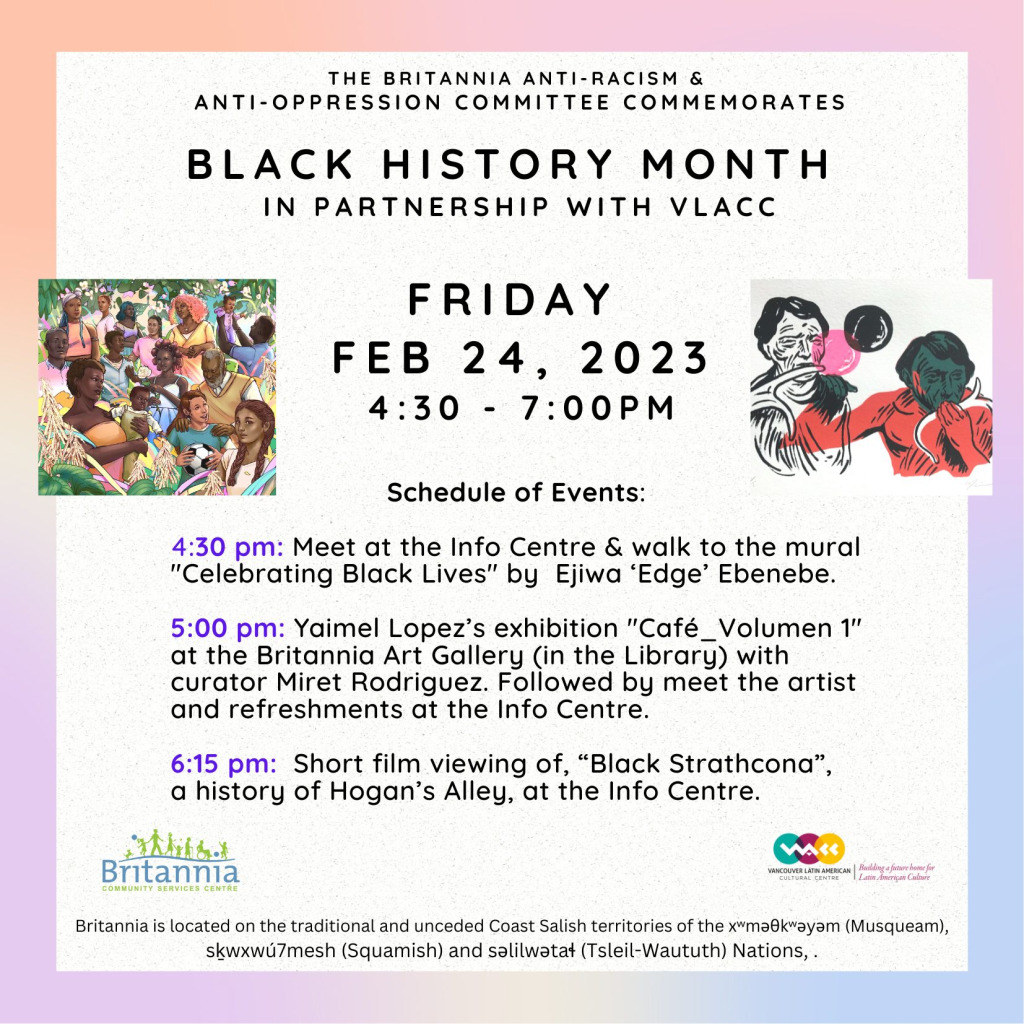 About Yaimel López:
Cuban artist based in Vancouver, where He works as an artist and graphic designer. With more than ten years experience, his work has been published in magazines and books. His professional projection also includes animation, illustration, editorial design and branding. His work has been exhibited in the United States, Canada, New Zealand and Cuba as part of collective and individual exhibits.
Since 2019 when He moves to Canada, Yaimel has been collaborating as an artist with several Vancouver organizations, such as Vancouver Foundation, Vancouver Latin-American Cultural Centre (VLACC), and Vancouver Latin-American Film Festival (VLAFF).
About Miret Rodriguez
Vancouver-based Mexican curator, educator and art advisor with experience in public and private projects in Canada, Germany, France and Mexico; her country of origin. In 2019 she moved back to Vancouver after a 5-year stay in Paris where she investigated the advances of the online art market during her masters degree at ESC Dijon in Paris. She has worked for diverse cultural spaces for the past 10 years including museums and commercial art galleries. Miret is an advocate for art democratization. She believes that art accessibility is important for the growth of a community. She is currently an art history teacher and a co-founder of Curated Tastes and art mediation company in Vancouver. With her diverse activities, she aims to help a wider public understand contemporary art, demystify the art world and bring people closer to art.