Rafael Cortijo and Ismael Rivera – The "pregón del barrio" and the evolution of Puerto Rican salsa | with Sal Ferreras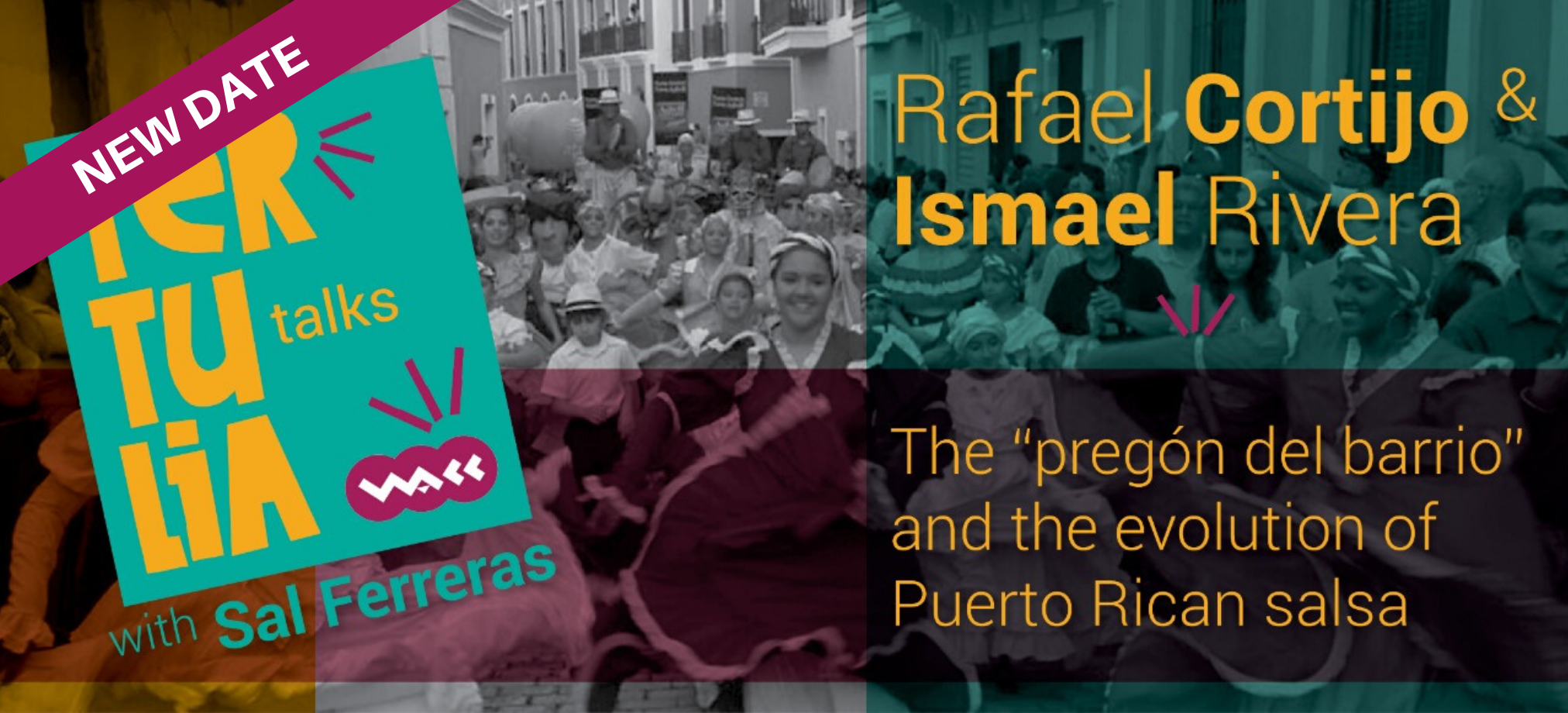 Tertulia Talks with Sal Ferreras
**NEW DATE MAY 25th**
This is a FREE online event.
Join the Zoom Meeting on May 25th at 7pm
https://us02web.zoom.us/j/87400610928?pwd=NTdsd3BOOU5sYVFsWVM5amtpWk44dz09
Meeting ID: 874 0061 0928
Password: 469863
This talk will explore the development of Puerto Rican Salsa with a special focus on the way in which "música tropical" (the precursor of salsa) reflected the values and aspirations of the communities and daily life in Puerto Rico in the 1950s and 1960s. We will look at aspects of urban life as they were reflected in the lyrics, forms and songs popularized by Rafael Cortijo and interpreted by his most significant collaborator, singer Ismael Rivera. During the talk, Sal Ferreras will present recordings, a few videos, photos and impressions that will expand knowledge around a musical style that came to influence a multitude of global styles.
–––––––––––––––––––––
Sal Ferreras has enjoyed a varied and diverse career performing artist, producer, educator, and educated administrator. Sal is a cultural catalyst and collaborator whose artistic sensibility has infused all his professional musical, educational and administrative work. His work encompasses a range of activities advocating for renewal, innovation and integration within diverse cultural and educational institutions and agencies. He has, over the past forty years, collaborated in almost every musical genre on the Canadian music scene. His music, dance, theatre endeavours in classical and world music, jazz, new music, indigenous, improvisation, folk, children's music have taken him to the Czech Republic, Germany, Japan, Hong Kong, the UK, Portugal, Taiwan, China, Australia, the USA, and throughout Canada. He is a former principal percussionist of the CBC Vancouver Orchestra under maestro Mario Bernardi and has toured and recorded as a member of the Vancouver Symphony Orchestra, the Victoria Symphony Orchestra, Viveza and the World Drums Percussion Orchestra. During the 2010 Vancouver Olympic and Paralympic Games he was the artistic director of the highly successful Four Host First Nations Aboriginal Pavilion. Sal has nurtured excellence throughout a professional career that has included national and international events, tours, and multiple awards. He was named a member of the BC Entertainment Hall of Fame in 2002 and was awarded the City of Vancouver's Mayor's Award for Music in 2010. He has performed on Juno and Grammy-winning recordings with diverse artists, including k.d. lang, Chicago, Robbie Robertson, Raffi, Colin James and Viveza. He also earned a Ph.D. in Ethnomusicology from the University of British Columbia in 2005.
Join the Zoom Meeting on May 25th at 7pm
https://us02web.zoom.us/j/87400610928?pwd=NTdsd3BOOU5sYVFsWVM5amtpWk44dz09
Meeting ID: 874 0061 0928
Password: 469863