Remembering the Future: Chile 1973 – 2023 An Evening of Music, Poetry, and Art
October 15 @ 7:30 pm

-

9:45 pm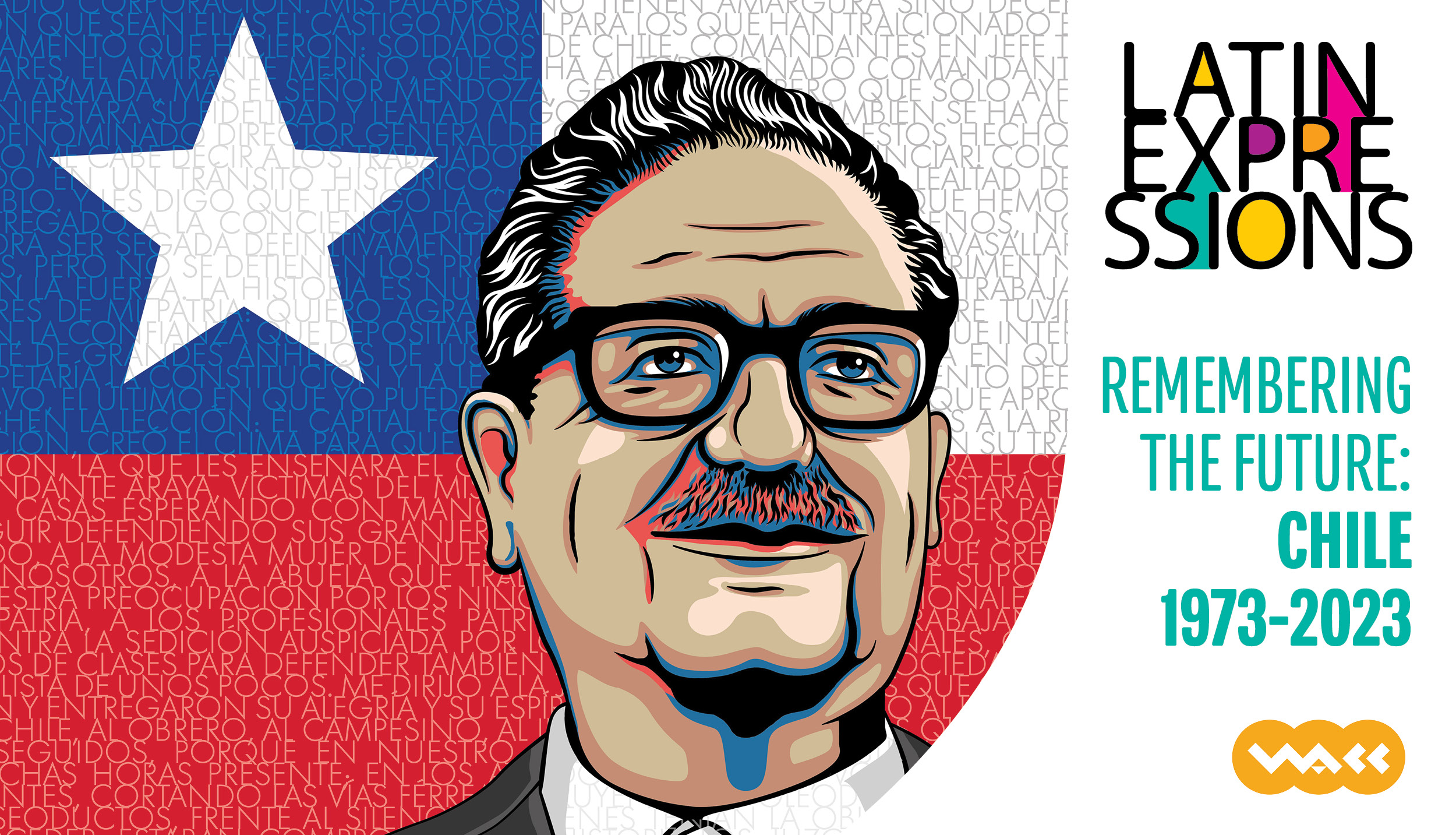 Latin Expressions' spotlight event this year will be a live concert, Remembering the Future: An Evening of Music, Poetry, and Art, featuring local group Sumalao. A 50th-anniversary commemoration of the 1973 Chilean military coup, the concert brings 17 talented performers to the Orpheum stage, celebrating the arrival and impact of Chileans in Canada.
This powerful concert will address the contributions of Chileans to Canadian society and recall how refugees found a safe haven in Canada. Five percent of tickets will be offered free of cost to Indigenous groups and underserved communities. 
General admission tickets are on a sliding scale of $20, $25, and $30. Group tickets are available (in limited quantities) in 6-pack at $100 and 10-pack at $150.
Buy Tickets
Date: Sunday, October 15
Time: 7:30 – 9:45 pm (with intermission) 
Venue: The Orpheum (601 Smithe St, Vancouver)
Get tickets: https://www.eventbrite.ca/e/remembering-the-future-chile-1973-2023-tickets-699289913957?aff=oddtdtcreator
Short Bios from creators:
Carmen Rodríguez
Chilean-Canadian bilingual writer, educator, journalist and activist Carmen Rodríguez came to Canada as a refugee following the military coup of 1973 in her native country.
She is the award-winning author of Guerra Prolongada/ Protracted War, a volume of poetry; and a body to remember with, a collection of short stories (finalist, Vancouver Book Awards); De cuerpo entero, its Spanish counterpart (Honorary Mention, Santiago Literary Prizes); Retribution, a novel (second place, Most Popular Novel category, International Latino Book Awards); and most recently, Atacama, a second novel (Honorary Mention of the International Latino Book Awards in the Best Historical Novel category). Rodríguez's writing has also appeared in periodicals and anthologies, been the subject of myriad reviews and analytical studies, and included in high school and university curricula.
Carmen Rodríguez has taught a range of disciplines in a variety of settings – from literature, languages and cultural studies to creative writing, basic literacy and teaching methodologies in colleges, union halls, shanty towns, schools, universities and First Nations' communities. As well, she has released numerous research studies and instructional publications in the fields of adult literacy and popular education. Worth mentioning is her Educating for Change: Community-Based/Student-Centred Literacy Programming with First Nations Adults, a handbook and documentary video for instructors of aboriginal literacy, which has been used extensively across Canada.
Her career as a journalist includes working as correspondent for Radio Canada International for twenty-two years and being part of a collective that created and published Aquelarre, a Latin American women's bilingual magazine.
Rodríguez has served on the Writers' Union of Canada's National Council (an elected position), and as juror for The Canada Council for the Arts, the BC Arts Council, the CBC's short story competition and the Danuta Gleed Literary Award. In 2019, the Canadian Association of Spanish Language Scholars and Creators dedicated its annual Homage and Exhibition to her work and in 2020 she was nominated for a YWCA Women of Distinction Award in the Arts, Culture and Design category. In 2021, the Vancouver Latin American Cultural Centre inducted her as the organization's inaugural "Honorary Elder."
In addition to her professional work as a writer, educator and journalist, Carmen Rodríguez has been a music aficionado for most of her life. As a child and a young woman, she studied piano, musical theory and composition at Chile's Music Conservatory and as an adult she has sung, played guitar, charango and small percussion instruments with musical ensembles in both Chile and Canada. Noteworthy is her participation in Cormorán and Resistencia, the first two ensembles that introduced the Chilean and Latin American New Song to Vancouver, Western Canada and the Pacific Northwest. Currently, she is a member of Canto Vivo, VLACC's choir.
Buy Tickets
Hugo Guzmán and Sumalao
Chilean-Canadian composer, multi-instrumentalist, singer, director and music producer
Hugo Guzmán came to Canada in 1987. In his native Chile he led award-winning musical groups such as Marea Alta and Sumalao, a band that between 1979 and 1985 performed Guzmán's original compositions as well as iconic pieces from the New Song Movement, which had been banned by the dictatorship. Often these presentations were in support of political prisoners and human rights organizations, such as Amnesty International.
He left Chile in 1986 and for one year lived in Mexico City, where he led the Camilo
Torres Ensemble. This group performed in myriad venues, including the prestigious Annual
Folkloric Convention at Chapultepec Park.
Shortly after settling in Vancouver, Hugo Guzmán became a well-known musician in the Latin Community performing at numerous venues including the most prestigious festivals in BC. In late 1991, Guzmán created a Canadian version of the original Chilean ensemble Sumalao, with the purpose of developing a new sound inspired by Latin American rhythms, but also incorporating elements of jazz and African music. Sumalao is a Quechua word that means "beautiful place," which he envisioned as a musical coming together of diverse beats and melodies.
Sumalao has recorded two albums: Encuentros (Encounters) and Fiesta de la luna (The Moon's Festivity), which was recorded live and released by the CBC. The band has also performed at myriad venues, including the Vancouver Folk Music Festival, the Vancouver Jazz and Blues Festival, the Toronto Jazz Festival, the Cultures Canada Festival in Ottawa, the Montreal Jazz Festival, The Northwest Folklife Festival and Bumbershoot Festival in Seattle, to name a few. As well, Sumalao was featured regularly on CBC's Disc Drive Live.
Between 1990 and 1994, Guzmán worked for CBC Radio and Television as programmer,
producer and performer. In that capacity, he arranged and directed Sumalao in the creation of an Andean version of the Disc Drive theme, a daily radio program conducted by Jurgen Gothe. He also conceived and produced a national World Music series called "Out of this World," which
was hosted by Salvador Ferreras.
Other work includes composing and performing music for the Knowledge Network's documentary film "Elwy Yost Tribute" and the CBC French Television documentary film "Le Territoire de L'autre – Une Chilienne en Saskatchewan."
Buy Tickets