Kairos Blanket Exercise
April 22 @ 6:00 pm

-

8:00 pm
We're pleased to start our series "Indigenous Experiences in Canada and Latin America – Working Towards Reconciliation" with the event Kairos Blanket Exercise on Saturday, April 22 at 6:00 pm at the Canuck Family Education Centre (1655 William St, Vancouver).
The Kairos Blanket Exercise is based on Indigenous methodologies to build an understanding of our shared history as Indigenous and non-Indigenous peoples in Canada – through pre-contact, treaty-making, colonization and resistance.
Join us and be actively involved as we step onto blankets that represent the land and into the role of First Nations, Inuit and later Métis peoples.
The Blanket Exercise educates and increases empathy by engaging emotionally and intellectually. This event will be delivered in English and is welcome to all levels of abilities.
Date: Saturday, April 22
Time: 6:00 pm – 8:00 pm
Place: Canuck Family Education Centre (1655 William St, Vancouver)
Free event
Register
About the serie:
"Indigenous Experiences in Canada and Latin America – Working Towards Reconciliation" aims to build intercultural interaction, trust and understanding by addressing Latin America's experience with Indigenous peoples, colonization, diversity and inclusion while gaining a better knowledge of Canada's path to Reconciliation.
Latin America refers to the parts of South and Central America that were influenced by either Spanish, French or Portuguese heritage through European colonization. Like in Canada, the pursuit of power dehumanized Indigenous peoples and devastated pre-existing societies. Religious traditions drawn from European ideologies largely influenced these cultures and— in some cases— eradicated native practices.
This series will create opportunities for Latin American immigrants and the larger community to interact with and learn from local Indigenous artists, Indigenous Latin American immigrants, racialized storytellers, writers, and community leaders.
Link to register: https://www.eventbrite.ca/e/kairos-blanket-exercise-tickets-597892341087
About the facilitators:
Hubert Barton 
Hubert Barton is a member of the Nisga'a Nation from the community of Gingolx located in the North Coast of British Columbia. He is from the Lax Gibuu clan and is the youngest of 4 brothers and 1 sister. Hubert grew up in his homelands of the Nass Valley and recently moved to the city of Vancouver to study at the Vancouver School of Theology, where he graduated from the Indigenous Studies Program with a Master of Divinity degree.
He now works as Coordinator of the Indigenous Studies Program and also engages in public speaking where he enjoys sharing the parallels he's found between his Christian Faith and Nisga'a Culture.
In his downtime Hubert enjoys both digital and analog photography with a main focus on landscapes. He recently had the honor of having some of his long-exposure night photography photos on display in a digital art exhibit at the Vancouver Latin American Film Festival.
IG: @hubert_barton
Catalina Parra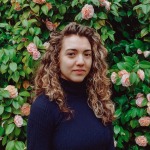 Catalina was born in Muisca territories (Bogota-Colombia) and currently lives in Musqueam, Squamish and Tsleil -Waututh territories (Vancouver). She attended Simon Fraser University, obtaining her bachelor of Arts in Latin American studies, which later took her to study and work/study in Argentina, Bolivia, Quebec, and Dominica.
Catalina has had the honor to work with First Nations communities, supporting community-based education programs in Vancouver, Hawaii, and Terrace. Currently, she works as Administrative Coordinator for Respectful Environments, Equity, Diversity and Inclusion at the Faculty of Medicine at UBC.
As a Latinx immigrant and new Canadian, Catalina is deeply committed to engage in a respectful and honorable intergenerational relationship with the Indigenous Peoples of turtle island.
In 2016 she took the KAIROS blanket exercise training in order to facilitate experiential workshops that invite people to dive into the untold story of Indigenous and Canadian relationships since first contact.
As a descendant of Mestizxs in her native Colombia, she has an intergenerational loyalty to the journey of resistance and de-colonization in Abya-Yala (known today as the Americas).