"Día de Muertos" | Interdisciplinary Embodiment Workshop
October 28 @ 1:30 pm

-

4:30 pm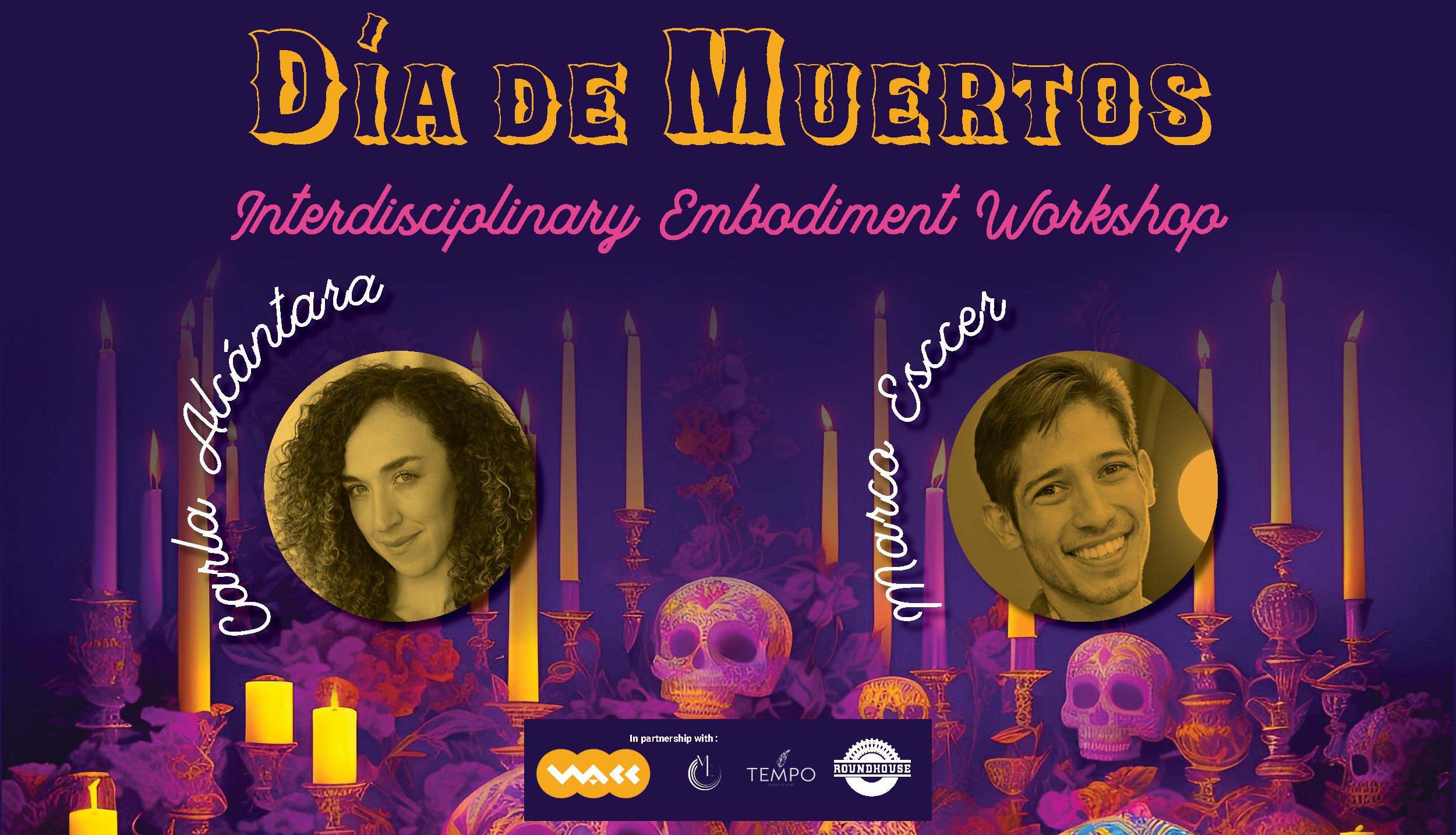 FREE Event for people 16+ 
Join us for "Día de Muertos" | Interdisciplinary Embodiment Workshop, a unique celebration of Mexican culture and a heartfelt tribute to our departed loved ones. Guided by the talented facilitators Carla Alcántara and Marco Esccer, this event invites you to engage in the art of crafting as we create an Altar de Muertos, a powerful symbol of remembrance and connection.
Crafting isn't just about artistic expression; it's a profound way to ground our emotions in the face of such a sensitive topic.
Through a dynamic interdisciplinary approach, we'll delve into movement and dance prompts, set to the backdrop of live music with Ricardo Ernesto Hardy Garcia (RCHRDY). Together, we'll weave a collective "ofrenda" (shrine) using provided crafts and materials, honouring the traditions that bind us.
This event not only offers a safe space for the Latin community to rediscover their roots and customs but also extends a warm invitation to the broader public. Come experience the profound beauty of celebrating the cycles of life and death in this cherished tradition.
Come in comfortable clothes and bring photos or other objects to be added to the altar. Note that activities and reflections planned for this workshop are oriented for ages 16+.
Date: Saturday, October 28
Time: 1:30 – 4:15 pm
Location: Roundhouse Community Arts & Recreation Centre – 181 Roundhouse Mews, Vancouver
This event is free, but registration is required. Please use the following link to save your spot:
https://www.eventbrite.ca/e/dia-de-muertos-interdisciplinary-embodiment-workshop-tickets-736724361397?aff=oddtdtcreator.
About the facilitators: 
Marco Esccer (he/him) is a queer Mexican dance artist and Dance Movement Therapist with a diverse background from the technical to the therapeutic aspect of dance, emerging now as an interdisciplinary artist. He received his Bachelor's in Ballet from the National Ballet and Contemporary School of Mexico City, followed by certifications in Research, experimentation and, contemporary art production, Dance Movement Therapy. Marco's recent work has been performed and supported by Co.Erasga, 12 Minutes Max at The Dance Centre, and "Aeropuertos llenos de Esperanza," a choreography about migration and hope as a guest choreographer with Coastal City Ballet, Re-Centering Margins from Dance West Networks and recently exploring as an emerging playwright at the Parallel Project with Momentum 180 under the dramaturgical support of Davey Calderon and currently training with Coastal City Ballet, Communications Coordinator at New Works, Artist in Residence at the Roundhouse 2023-24, and providing embodiment workshops for diverse organizations in person and online.
Carla Alcántara is a versatile Mexican artist based in Vancouver. She's the Director of TEMPO Dance & Visual Art, a project that merges contemporary dance and visual art to create accessible yet profound expressions of art. With diverse training in dance styles and extensive experience collaborating with various artists and companies worldwide, Carla brings a wealth of creative insight. She has participated in the creative processes of many artists and companies, including Tijuana's Lux Boreal, with whom she collaborated as a resident dancer and photographer for three years, ARCOS Dance (Austin), Charlotte Boye-Christensen (Vancouver), and in festivals like All over the Map (Vancouver), Without Walls (San Diego, Ca), 8 Proyecto GATO and Nohbords (both Mexico City), SIBU International Dance Festival (Malaysia), Festival Cuerpo al Descubierto (Mexico City), Spring Works (Ontario), among others. She's also an experienced educator, teaching dance across different age groups in Mexico, Canada, and the US for nearly a decade. Currently, Carla is involved with the Training Society of Vancouver. She instructs modern dance at the Shadbolt Centre for the Arts while pursuing her own artistic ventures in choreography and visual art.
RCHRDY (pronounced 'richardy') is a emerging multidisciplinary artist interested in digging into the 'spaces in between'. Starting their career in performing Arts, they've explored all kinds of creative endeavors such as installation making, music, collage, etc. Born in Mexico currently based in the (stolen) territories of the Musqueam, Squamish, and Tsleil-Waututh Nations (Vancouver, Canada).
In partnership with TEMPO Dance & Visual Art and Roundhouse Community Arts & Recreation Centre
With support from Consulate General of Mexico in Vancouver
FREE Event for people 16+