Latin American Short Stories Reading Group with Venezuelan writer Helen Cova
October 21 @ 4:00 pm

-

5:30 pm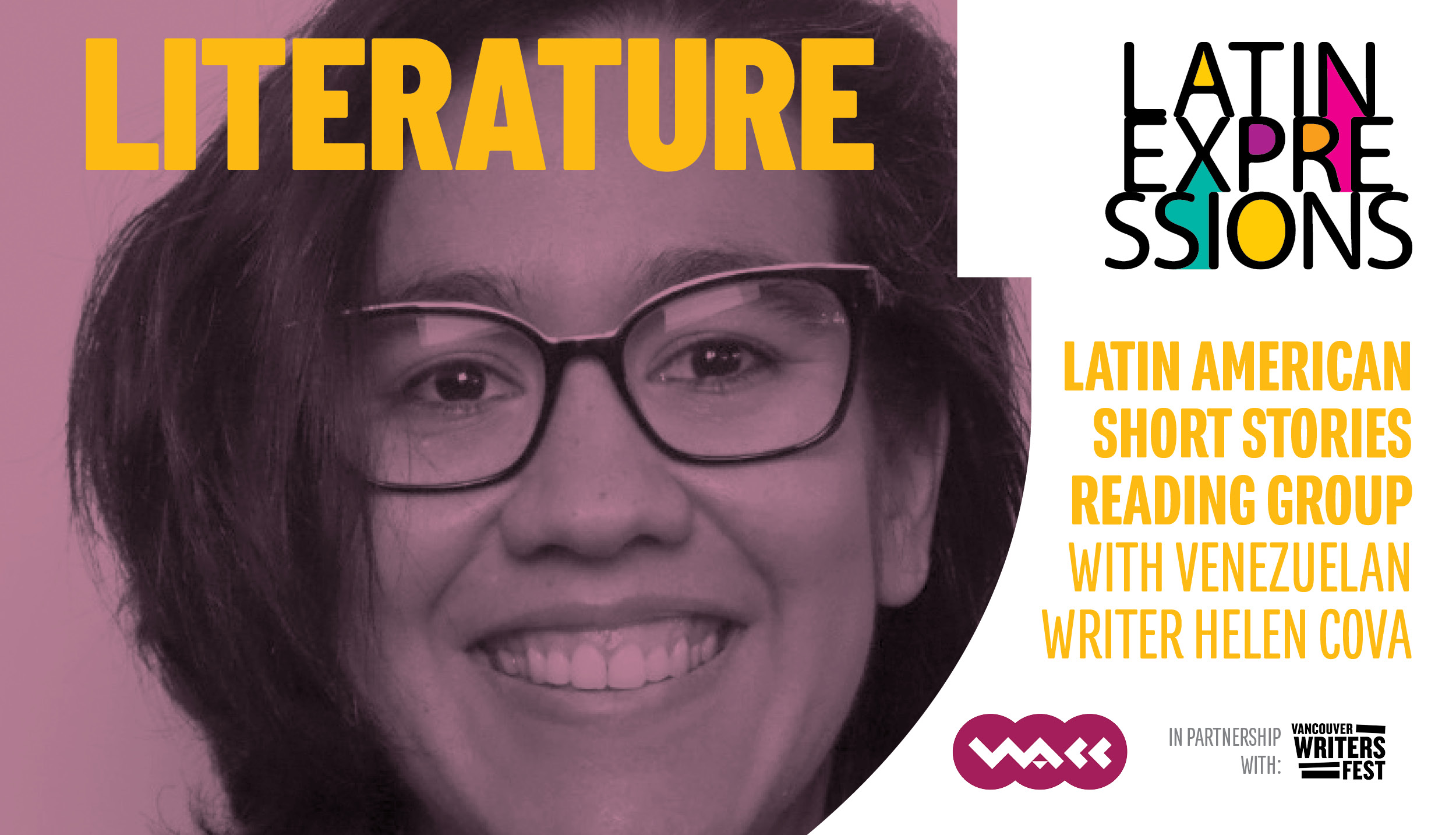 We're pleased to present a SPECIAL EDITION of our Latin American Short Stories Reading Group. This event is open to anyone interested in short stories written by Latin American authors.
Join us on Saturday, October 21, at 4:00 pm at the SFU (Vancouver Campus) – Belzberg Library for a conversation on the stories "Splinter," "Astronaut," "New God" and "Inside" by Venezuelan writer Helen Cova, who is visiting Vancouver as a Writers Fest guest. Chilean-Canadian, Carmen Rodríguez will be facilitating the conversation.
Register: https://www.eventbrite.ca/e/latin-american-short-stories-reading-group-with-venezuelan-writer-helen-cov-tickets-721576273057?aff=oddtdtcreator
You can access the stories on the following link:
https://drive.google.com/drive/folders/1TOX2BJ6H2aHSyiwZPXr0KBtzzpzEBa5q?usp=sharing
The stories are in English translations. Discussions will also be led in English. No background in Latin American literature or culture is required.
Date: Saturday, October 21
Time: 4:00 – 5:30 pm
Venue: SFU (Vancouver Campus) – Belzberg Library (515 W Hastings St, Vancouver)
Short Bio
Helen Cova is a Venezuelan writer in Iceland. Author of Autosarcophagy: To Eat Oneself and the Snulli series, her work has been published in journals including Ós – The Journal, Timarít mál og menningar, Skáldreki and The Polaris trilogy, an anthology meant to arrive on a NASA flight at the Moon's South Pole.
Register